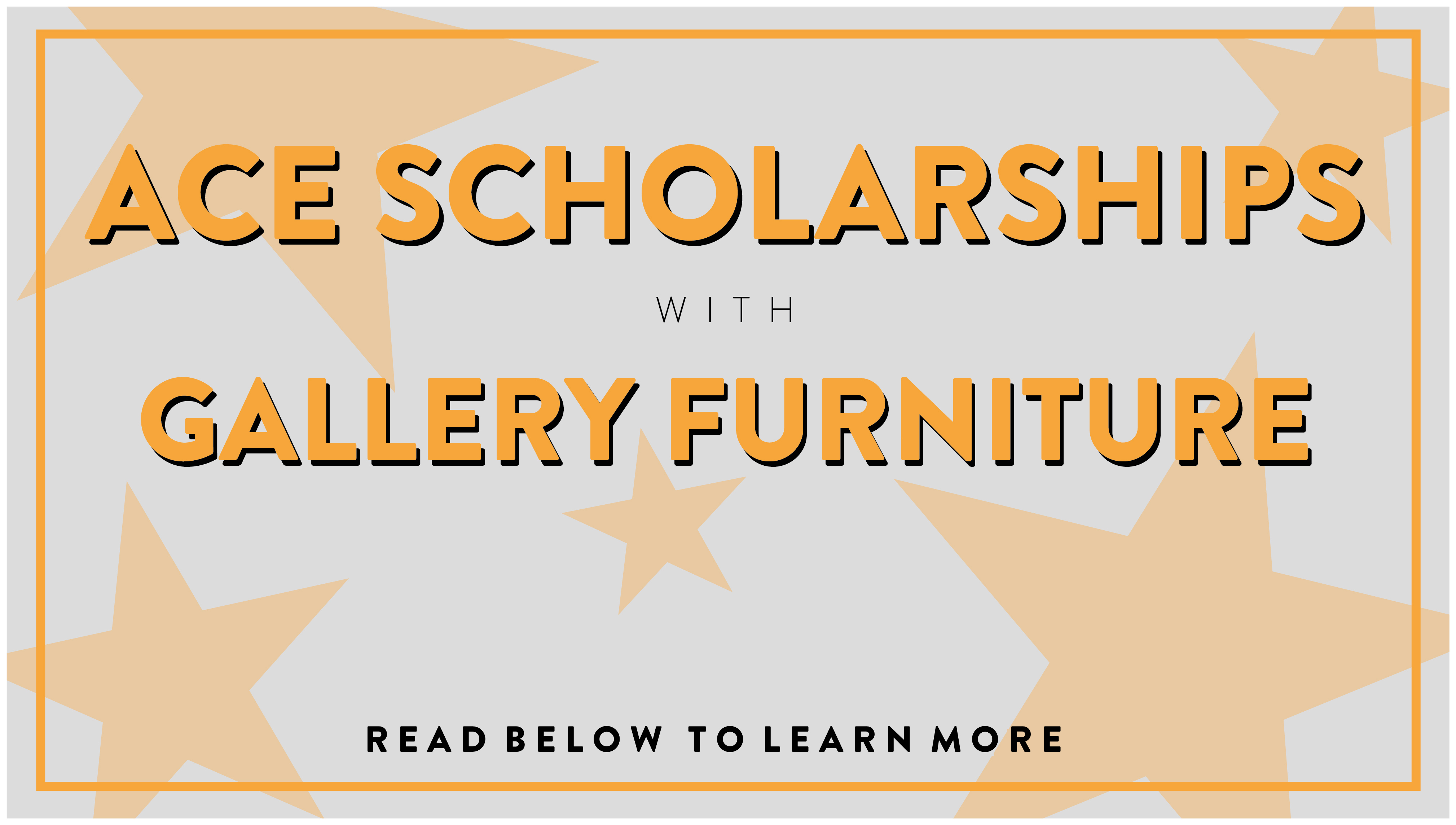 Gallery Furniture and Mattress Mack are committed to helping Houston families find the resources they need to be successful! This is why we are collaborating with ACE Scholarships to afford children of low-income families the opportunity to receive a great education at participating Houston area private schools.
ACE Scholarships is a nonprofit organization that raises money from generous donors and awards financial scholarships to students in need of financial assistance. Since 2000, ACE Scholarships has awarded over 23,000 scholarships worth over $52M. Students will use these scholarships toward the tuition at a participating private school of their choice as a first step in building the bright future they deserve.
Current ACE Scholarships recipients have overcome great odds to accelerate their goals and Gallery Furniture is excited to help connect future ACE Scholarships recipients with the same opportunity. 90% of ACE Scholars graduate from high school each year and last year, 73% directly enrolled in college with 81% of those students receiving a college diploma within 6 years!
A wide variety of private schools participate in the ACE Scholarship program and families of potential scholarship recipients can select the best school for their child. To see a complete list of participating schools in Houston, please visit: https://www.acescholarships.org/become-a-scholar/texas/
Additionally, to qualify for the ACE Scholarships program, a family must meet certain income requirements, including the income requirements for the federal Free and Reduced Lunch Program. These income requirements are as follows:
| | | |
| --- | --- | --- |
| | ACE SCHOLARSHIPS FINANCIAL GUIDELINES | |
| HOUSEHOLD SIZE | ANNUAL | MONTHLY |
| 1 | $21,775 | $1,815 |
| 2 | $29,471 | $2,456 |
| 3 | $37,167 | $3,098 |
| 4 | $44,863 | $3,739 |
| 5 | $52,559 | $4,380 |
| 6 | $60,255 | $5,022 |
| 7 | $67,951 | $5,663 |
| 8 | $74,647 | $6,304 |
| EACH ADDITIONAL | +$7,696 | +$642 |
An ACE Scholarship will pay up to 50% of private school tuition, or a maximum of $2,000 per year for grades K-8 and $3,000 per year for high school. Families must work out a payment plan with the school to cover the remaining tuition.
If you've decided that the ACE Scholarships program is right for your child, please visit https://www.acescholarships.org/become-a-scholar/ for more information and follow the below steps to apply:
1. Confirm that you qualify for an ACE scholarship based on the financial guidelines listed in the chart above.
2. Identify the right ACE partner private school for your child at: https://www.acescholarships.org/become-a-scholar/texas/
3. Complete the school's application and enrollment process for your child.
4. Work with the chosen school to find out if there are available ACE scholarships. (All scholarships are distributed to schools in the spring of each year based on available funds.)
5. If available, the school will provide you with an ACE application for you to complete.
6. Return application and supporting documents to school for submission to ACE.
Gallery Furniture looks forward to seeing so many more Houston children excel in their academic careers and to providing hope and opportunity to the children and families in our community! All the best to you and God bless!
Donate
You and your family can help Houston area children succeed, and provide a brighter future for our great community! Visit the Ace Scholarships page at https://www.acescholarships.org/donate/ for more information on how to donate to this amazing organization!
Your tax-deductible donation will help Ace Scholarships provide low-income families with the financial support they need to see their children through a quality education. Your donation ensures that this program continues to be available to the children that need it most right here in Houston! When making a donation, include "Houston" in the comments box to make sure that your generosity directly reflects on our city!
Any contribution is greatly appreciated, from $5 and up. Specific donation and contribution amounts to support children are:
$10,000 to support four children for a year
$5,000 to support two children for a year
$2,500 to support one child for a year
$1250 to support one child for a semester
For further information, contact Shelley Rogers at srogers@acescholarships.org or 713-530-9574.