Gallery Furniture Financing and Leasing Options
Wells Fargo Financing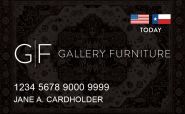 A Gallery Furniture Credit Card1 is an easy and convenient way to pay for your Gallery Furniture purchases. Plus, as a preferred customer, you can enjoy exclusive special benefits throughout the year, such as:
No Annual Fee1
Advance Notice of Preferred Customer events
Open Line of Credit - for all your purchasing needs
Convenient Monthly Payments
Quick Credit Decision
1 The Gallery Furniture credit card is issued with approved credit at participating merchants by Wells Fargo Bank, N.A. For new accounts, the APR for Purchases is 28.99%. If you are charged interest in any billing cycle, the minimum interest charge will be $1.00. This information is accurate as of 5/1/2018 and is subject to change. For current information, call us at 1-800-431-5921.
View Wells Fargo's Terms & Conditions below:
Wells Fargo Terms & Conditions
If you choose to Apply Online, you must provide an e-mail address. If we are able to complete the evaluation of your application within approximately 45 seconds, we will notify you of the credit decision online.
You can check the status of your application at any time by clicking here.
View our online Privacy Policy.
How do I know my account information is secure?
*Subject to credit approval. See in store for details and options.
To apply online, select the button below:
Progressive Lease-Purchase

Try this new payment option right now: with online application and the fastest no credit needed decision on Earth!
Click the link below to begin the application process. Please be assured that your personal information is kept private using a secured website with Progressive. If you have any questions or concerns about the Progressive application or system.
Progressive Lease-Purchase has the following benefits:
Fastest No-Credit-Needed Decision on Earth!
Approval from $300 to $3000.
No Paystub Copies Needed.
90 Days Payment Option.
Online Signature.
Auto Draft Payments.
Here are some minimum requirements that Progressive will be considering:
18 years old or older
SSN or ITIN
Checking Account with Routing Number
Debit or Credit Card
Please let the Gallery Leasing Team know if you have any questions 713-694-5570.
Have Questions? Call Progressive at 855-222-0801.
Okinus Lease-Purchase

Okinus' lease-purchase option provides the opportunity to purchase high-quality furniture at a payment amount that can be afforded with NO CREDIT NEEDED.
Click the button below to begin the application process through Okinus' secure website. If you have any questions or concerns about the application process, please call toll free at 1 (800) 472-1334.
Okinus Lease-Purchase offers the following benefits:
Gallery Furniture same day delivery!
Easy to apply!
NO CREDIT NEEDED
No application fee required
Approvals up to $6000
Leasing terms up to 24 months
Early payoff options
Quick qualification process
Auto draft payments
To be considered, applicant must:
Be 18 years of age or older
Have an open checking account for 60+ days in applicant's name
Earn at least $1200 in monthly gross income
Have the ability to pay required down payment (normally 15% of purchase price)
View the Okinus online Privacy Policy.
Questions? Call at 1(800) 427-1334 or view Customer FAQs.
To apply online, select the button below: