Gallery Furniture Financing and Lease-Purchase Options

Wells Fargo Financing
0% APR FOR 60 MONTHS
WITH EQUAL PAYMENTS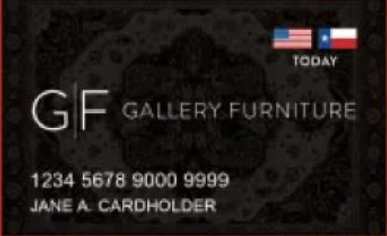 *Special Terms apply to qualify purchase of $12,000 minimum with approved credit. See store for details. Cannot be used in conjunction with any other Gallery Furniture promotion. Minimum 15% down payment required. Offer good through 10/01/2023
$4,000 - $5,999
24 Months
(10% Down Required)
$6,000 - $7,999
36 Months
(15% Down Required)
$8,000 - $11,999
48 Months
(15% Down Required)
A Gallery Furniture Credit Card1 is an easy and convenient way to pay for your Gallery Furniture purchases. Plus, as a preferred customer, you can enjoy exclusive special benefits throughout the year, such as:
No Annual Fee1
Advance Notice of Preferred Customer events
Open Line of Credit - for all your purchasing needs
Convenient Monthly Payments
Quick Credit Decision
* 1 The Gallery Furniture credit card is issued by Wells Fargo Bank, N.A. Special terms apply to qualifying purchases of $12,000 or more charged with approved credit. The special terms APR will continue to apply until all qualifying purchases are paid in full. The monthly payment for this purchase will be the amount that will pay for the purchase in full in equal payments during the promotional (special terms) period. The APR for Purchases will apply to certain fees such as a late payment fee or if you use the card for other transactions. For new accounts, the APR for Purchases is 28.99%. If you are charged interest in any billing cycle, the minimum interest charge will be $1.00. This information is accurate as of 9/1/2023 and is subject to change. For current information, call us at 1-800-431-5921.
View Wells Fargo's Terms & Conditions below:
Wells Fargo Terms & Conditions
If you choose to Apply Online, you must provide an e-mail address. If we are able to complete the evaluation of your application within approximately 45 seconds, we will notify you of the credit decision online.
View our online Privacy Policy.
How do I know my account information is secure?
*Subject to credit approval. See in store for details and options.
To apply online, select the button below: