What Makes Gallery Furniture Different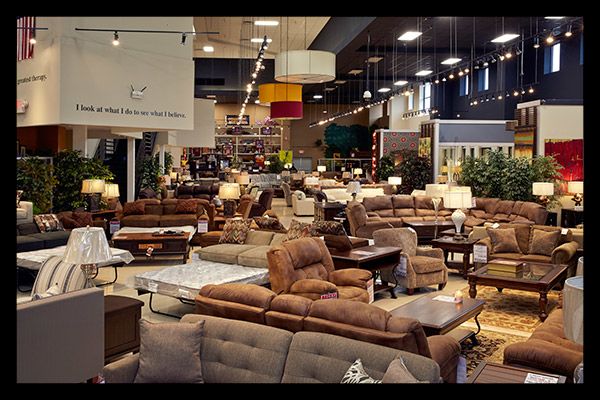 Since opening in 1981, Gallery Furniture has grown from a small family business to employing several hundred employees in the stores and across the United States. Store owner, Jim "Mattress Mack" McIngvale, has gained the respect of the community and his flagship North Freeway location has become Houston landmark. Hard work, outstanding service, quality furniture, and unique attractions make furniture shopping fun for visitors of all ages.
McIngvale and his wife may have started Gallery Furniture with only $5,000 and dream, but today the GF stores are unmatched in competition, sales, and passion for both furniture and happy customers.
The Gallery Furniture Experience
Upon entering, customers will usually see Mack himself standing behind the front desk welcoming and assisting visitors. His exuberance sets the tone for a spectacular experience. Sales professionals are always on hand to assist, but the freedom visitors are given to browse the stores without being hassled is a breath of fresh air.
The family-friendly North Freeway store also contains an indoor playground and a Texas sized mattress to give kids a chance to have some fun. Visitors young and old can also visit the exotic birds around the store and the Capuchin monkeys hanging about the monkey enclosure. Free snacks, including cookies, ice cream and popcorn, combine with a full service restaurant at the North Freeway store to help visitors keep their energy up as they explore gorgeous showrooms and test out mattresses.
Made in America
Fine woods, handcrafted finishes, dovetailed joints — these are all hallmarks of what makes American-made furniture the best in the world. Mack's passion for the American work ethic and the U.S. economy has lead to the largest Made in America collection in Texas. Gallery Furniture's long standing relationship with American furniture suppliers ensures that customers are getting the best quality furniture possible, with special attention paid to durability, comfort, and value.
Same-Day Delivery
One of the most notable features that keeps customers coming back is Gallery Furniture's dedication to same-day delivery. The ability to receive your furniture purchase the same day of purchase is almost impossible according to most competitors. However Mack is still living out his dream, not with the use of a third-party delivery service, but with passionate employees who love helping customers enjoy their furniture as they assemble the new, and remove unwanted pieces. World class delivery teams are trained to do the impossible every day and make every delivery exceptional, every time.
Recently, the delivery practices have been expanded even further. Customers across state lines can now enjoy a high-quality sleep on mattresses from Gallery Furniture with nationwide delivery!
No Pressure Sales Professionals
At Gallery Furniture, you never have to worry about the motives of the dedicated sales professionals and furniture experts on the floor. In seeking out a way to improve quality, productivity, and reduce anxiety among employees, Mack did away with the standard furniture store practice of using a commission-compensated system. This allows the entire Gallery Furniture team to remain focused on providing every single visitor with a spectacular experience that it personalized without pressure.
Gallery Furniture in the Community
Over the years, Mack and his wife have given countless dollars and furniture away to charities and families in need - creating a strong connection to the Houston community they love so much. For more than 3o years, Gallery Furniture's Christmas Giveaway has changed the lives of many Houstonians in need of hope, support, and furniture.
Gallery Furniture also supports Teachers' Lounge Makeovers, the USO, the Houston Rodeo, the Salvation Army, Houston's Mobile Stroke Unit (the first of its kind in the USA!), and many other charities.
We are grateful to the city of Houston every single day, and appreciate your support and loyalty. Visit one of our Houston locations and allow the Gallery Furniture team to earn your business! It'd be an honor to serve you TODAY!